Vote for your favourite song
Vote for your favourite song
There is no voting yet!
Next voting round starts on Friday, May 27 at 16:00 (CET/GMT +02:00).
Visit this page for more information about the rules of the game.
Song of the Week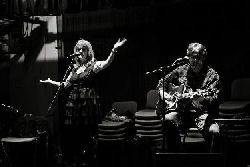 Una comes from a small farm in Southern Ireland in the county of Louth. As a country girl she started singing at churches. Later she became the principle singer at the world famous Bunratty Castle in Shannon. She sang there for three years, traveled the world, performing on Radio and TV shows and for the Hoi polloi, including the president of the USA.

Then Una moved to England with Tony. They have been working together now for some time, writing songs and playing gigs.

Tony comes from Manchester. He started playing live music from the age of 12, firstly with a brass band and then at the age of 16 he got his first guitar. He has a passion for music of the late 60's and 70's. Next to playing live music Tony takes care of recording their new songs on the computer in their home studio.

Tony and Una aspire to release a new song and video every month. When they have 12 songs, they will release their debut album.

Website of Tony and Una
Song of the Week
by
Tony and Una
* Ede FM will play the Song of the Week at least 40 times during 1 week.
* TalentCast will play the Song of the Week again in the next edition, which is broadcast 11 times a week on 2 FM and 2 internet radio stations.
* The Song of the Week will be on our website for 1 week.