Forum
What is your opinion about TalentCast?

Hi TalentCast Members, Since the summer break TalentCast has been doin...
Read more
Welcome to our brand new forum

Dear all, I have just installed new updates for our website. It looks ...
Read more
We got 3125 songs so far.
Latest 5 are from:
Promote your music
Check our FAQ on how to submit your independent music.
TalentCast is an independent music radio programme. We have been broadcast since 2007 and in this time have grown from a few dozen listeners on one internet radio station to three radio stations (one FM and two on the internet) and several thousand listeners. Our partner radio stations are Ede FM, Universe Radio and Fame Music Radio.
Apart from making a radio programme, we host album listening sessions, feature music videos and provide a platform for sharing gigs and events, which are posted by artists and their fans.
TalentCast is not a company or foundation; it is a voluntary, non-commercial project set up and run by people who want to help independent music be discovered.
Independent musicians are welcome to submit music for airplay. Read here about how you can do it, and why you should!
Videoclip of the Month for April 2017:
Western Line by Aly Cook
Founder of TalentCast
Song of the Week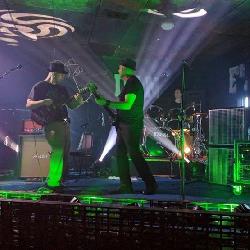 The Smashed Idols is the two-person indie punk rock band of John and George from Houston, Texas. Both sing, John is the drummer and George plays the guitar.
* Ede FM will play the Song of the Week at least 40 times during one week.
* TalentCast will play the Song of the Week again in the next edition (broadcast on FM, cable radio, several digital radio channels and the internet).
* We will have the Song of the Week on the main page of our website for one week.