Forum
Artist news and messages
Suffering From My Success

I'M SUFFERING FROM SUCCESS! Someone tried to stop me, judge me, puttin...
Read more
Post
artist news or message
We got 3235 songs so far.
Latest 5 are from:
Promote your music
Check our FAQ on how to submit your independent music.
TalentCast is an independent music radio programme and podcast. It has been broadcast since 2007 and in this time has grown from a few dozen listeners on one internet radio station to three radio stations (one FM and two on the internet) and several thousand listeners. Our partner radio stations are Ede FM, Universe Radio and Fame Music Radio.
Apart from promoting independent music in our radio programme and podcast, we host album listening sessions, feature music videos and provide a platform for sharing artist news, gigs and events, which are posted by artists and their fans.
TalentCast is not a company or foundation; it is a voluntary, non-commercial project set up and run to help people discover quality independent music.
Independent musicians are welcome to submit music for airplay. But TalentCast is not only for artists, every music lover is welcome to join.
Gigs and events
Videoclip of the Month for November 2017:
Song For Absent Friends
by
Benny Mayhem
Founder of TalentCast
Song of the Week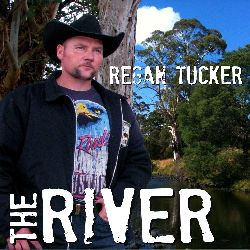 Regan Tucker grew up in Te Awamutu (New Zealand) in a family of farmers, listening to Cliff Richard. In his 20's he decided to run his own farm and moved to Tasmania. Because of droughts and downturn Regan had to sell his farm, and moved back to his native country.

Back in New Zealand Regan Tucker started to write country music and made 3 albums. The title track of his debut album The River reached the 11th position on the independent country music charts in America. The songs How Long and Long Way to Go on his second album reached the first position of these charts.

This week's Song of the Week is a track from Regan Tucker's latest album Stone Cold Country Boy. It's a song about saying goodbye to his farm.
* Ede FM will play the Song of the Week at least 40 times during one week.
* TalentCast will play the winning song again in the next radio programme and podcast. The programme is broadcast on FM, cable radio, several digital radio channels, the news text channel of Ede TV, and on the internet.
* We will promote the independent musician or band who gathered the most votes, for one week on the main page of our website, on Facebook and Twitter, and forever on this week's playlist.