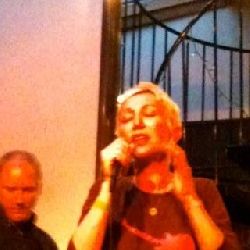 Amanda Campbell grew up in London, surrounded by music. Interested in soul music, jazz, Motown and the Philadelphia sound, she decided to write and perform her own songs.

After moving to Los Angeles, she started singing in a jazz group and caught the attention of local producers. Since 2011 Amanda is the lead singer in The Strands, a jazz/pop band that is steadily growing an audience.

Picking Up The Pieces is a catchy song about betrayal and is Amanda Campbell's newest release. She made this song together with soul musician Kevin T. Williams of The Untouchables, and it is accompanied by a nice video, which you can watch below.
* Ede FM will play the Song of the Week at least 40 times during one week.
* TalentCast will play the winning song again in the next radio programme and podcast. The programme is broadcast on FM, cable radio, several digital radio channels, the news text channel of Ede TV, and on the internet.
* We will promote the independent musician or band who gathered the most votes, for one week on the main page of our website, on Facebook and Twitter, and forever on this week's playlist.