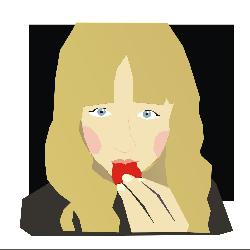 Vero is the project of singer, multi-instrumentalist, songwriter and composer Weronika Anna Szatkowska from Bydgoszcz (Poland). She accompanies herself on ukulele, guitar, piano and kazoo. Her genre is a mix of acoustic, country, pop and folk rock.

Vero supported the concert of the blues favorite of polish Radio Three, Earl Thomas, and performed at the Seven Festival. She was also sponsored by the hardware company Baton Rouge from Berlin, which is also the sponsor of the Milky Chance. Vero still works with them.
* Ede FM will play the Song of the Week at least 40 times during one week.
* TalentCast will play the winning song again in the next radio programme and podcast. The programme is broadcast on FM, cable radio, several digital radio channels, the news text channel of Ede TV, and on the internet.
* We will promote the musician or band which gathered the most votes, for one week on the main page of our website, on Facebook and Twitter, and forever on this week's playlist.