Forum
What is your opinion about TalentCast?

Hi TalentCast Members, Since the summer break TalentCast has been doin...
Read more
Welcome to our brand new forum

Dear all, I have just installed new updates for our website. It looks ...
Read more
Some website updates
By: Johan Jongerius (Crew of TalentCast)
---

This weekend I fixed some bugs in the website and made some minor chan...
Read more
Post
artist news or message
We got 3044 songs so far.
Latest 5 are from:
Promote your music
Check our FAQ on how to submit your independent music.
TalentCast is an independent music radio programme. We have been broadcast since 2007 and in this time have grown from a few dozen listeners on one internet radio station to three radio stations (one FM and two on the internet) and several thousand listeners. Our partner radio stations are Ede FM, Universe Radio and Fame Music Radio.
Apart from making a radio programme, we host album listening sessions, feature music videos and provide a platform for sharing gigs and events, which are posted by artists and their fans.
TalentCast is not a company or foundation; it is a voluntary, non-commercial project set up and run by people who want to help independent music be discovered.
Independent musicians are welcome to submit music for airplay. Read here about how you can do it, and why you should!
Videoclip of the Month for February 2017:
How To Survive An Apocalypse by Merlot Embargo
Founder of TalentCast
Song of the Week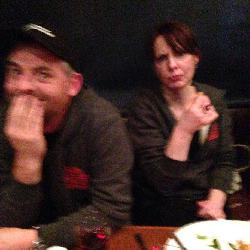 Julie Lamb and her band are based in Wellington, New Zealand. Their sound is described as funky blues rock with a 70's vibe. Julie is known in the local music scene, because she performs frequently, and promotes other bands and choirs. She also directed several music events.
Julie Lamb released four albums:
Most and Least
(2008),
Trippin' the Light
(2012),
When we Hang Out
(2014) and
Ordinary Days
(this year). For her latest album she will have a launch party on March 11 in her home town at
Mac's Brewbar
.
* Ede FM will play the Song of the Week at least 40 times during one week.
* TalentCast will play the Song of the Week again in the next edition (broadcast on FM, cable radio, several digital radio channels and the internet).
* We will have the Song of the Week on the main page of our website for one week.