I love you the way you are
by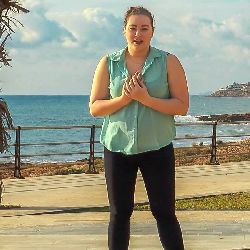 Stefanie Black (born in Lincolnshire, United Kingdom, nowadays living in Germany) had her first performance already as a little kid of 2 years old. Then, during holidays with her parents, she performed on the stage of a cruise ship.

Later, Stefanie sang in several choirs and entered quite some music performance competitions. Because of these competitions she learned to play a lot of songs, which she recorded and released on several cover albums.

Nowadays Stefanie Black sings in musicals, and plays ballads and soft pop in her concerts. When she performs, she plays covers as well as her own original material. She is also successful in a completely different genre, German Schlagers.
* Ede FM will play the Song of the Week at least 40 times during one week.
* TalentCast will play the winning song again in the next radio programme and podcast. The programme is broadcast on FM, cable radio, several digital radio channels, the news text channel of Ede TV, and on the internet.
* We will promote the musician or band which gathered the most votes, for one week on the main page of our website, on Facebook and Twitter, and forever on this week's playlist.