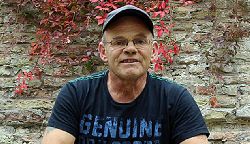 Piet Louter is a folk and pop singer-songwriter from Kolhorn, the Netherlands, born in 1953. He started writing songs at the age of 15, was a singer and guitar player in several cover bands and released his debut single in 1977. After being in music for ten years, he took a break and worked as a farmer.

At the farm Piet earned enough for a living for the rest of his live, and after 20 years he went back to music again. He discovered the possibilities of digital recording, started to write new songs and released two albums.

In 2012 Piet Louter released Footprints In The Sand, an album filled with lyrics about his vision on important subjects in life. like religion, power, people and death. In 2015 he released his second album The Fair Story, an album with personal stories. He released Footprints In The Sand again in 2016, because he was unhappy with the sound mix of the 2012 release.