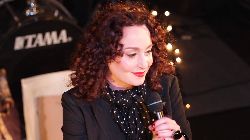 On the cover of Bridge the Roads, the debut album of singer-songwriter Franka De Mille, we see a feather drawn with a delicate dark line. At a closer look, we see the feather has roots like those of a plant or a small tree. Asked about the symbolism of this image, Franka answered the feather stands for rebirth and spiritual protection, but added that she wanted the image to be open to interpretation. Perhaps the feather foretells the future of Franka's music, which travels the world lightly as a feather, crossing geographical borders, and then roots itself in the hearts of the listeners.

Franka De Mille's fully independent debut was released in 2010. The style of her music, which Franka calls "acoustic-baroque-folk", "bridges" many influences and traditions, which could be expected of an artist which such an international background. Franka's origins range from Flemish to French-Canadian on her father's side and Italian-American and Australian on her mother's side; she grew up in Paris, but has lived most of her life in London, where she moved in her teens. However, some of her most passionate fans live in the country to which she has no natural connection: Poland. Perhaps it is because Franka's songs sound as if they had a Polish soul; Polish velvet darkness, melancholy, sensitivity.

The Polish connection established itself on many levels. First, Polish cellist Dorota Gralewska responded to Franka's advertisement, and, having heard Franka's demos, decided to work with her. She became one of the Polish fans also quickly found Franka's music on the internet. Thanks to the help of a Polish fan on MySpace, who introduced her to a number of music journalists, Franka De Mille's songs started to be played on Polish radio stations, both national and local. All this led to an invitation to the first concert in Poland, which took place in September 2011 in Lublin, at Europejski Festiwal Smaku (eng. The European Festival of Taste). The concert was followed by radio interviews, among others, on the renowned "Trójka", Channel 3 of Polish National Radio.

Currently Franka De Mille is working on a new album, while the songs from her debut are still finding their way to the hearts of more and more fans worldwide.