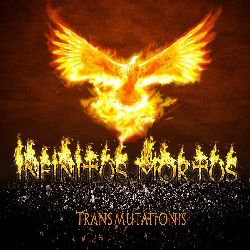 The New Jersey-based band Infinitus Mortus breaks away from the mainstream and delves into the dark realm of classical-inspired symphonic metal, made popular by European bands such as Epica, Nightwish and Dimmu Borgir.

Infinitus Mortus started off in 2008 as a studio project of Stephen "Stoki" Megna (drums, guitars, keys). Having played in multiple local bands, Stephen started longing for musical freedom and finally decided to concentrate on his own compositions. In 2010, the first album of Infinitus Mortus titled 2012 was released, recorded with an operatic vocalist. 2011 saw the release of the project's second album The Conspiracy of Love, built upon the themes of love, anguish and heartache. The album was recorded with vocalists Vincent James "VJ" Meehan and his sister Caitlin. The lyrics were written by VJ and based upon the ideas provided by Rebeca Pasquel.

On 8 December 2014, Infinitus Mortus released their latest album Transcendence of Souls, which features vocalist Destini Beard. It is available on Itunes, Amazon MP3, Google Play, Spotify, Rhapsody, E-Music, Medianet, and BeatsMusic.

In November Infinitus Mortus will open for Sonata Arctica at Starland Ballroom in Sayreville New Jersey.