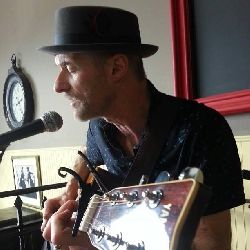 Clive Barratt comes from Blackburn, Lancashire, England, and now lives in Chilliwack, British Columbia.

Clive got his first guitar at the age of 12, had basic music training in high schools in the UK and Canada and wrote his first song at the age of 16. He has written over 55 songs in a variety of styles including rock, contemporary pop, folk-rock, blues-rock, country-rock, gospel and instrumental. Clive performs solo, duet, trio or full band gigs on a casual basis, in between his regular work as an airline pilot.

In December 2014, Clive Barratt released Wall of Storms, his debut album of 12 original songs. The album was funded online by fans. It was recorded at Marpole Recording Studio and produced by Rob Begg.

Clive on the album: Between fundraising, crafting the songs for the album, recording and production, including long delays due to tragedies which happened within the lives of some of those involved in the album, this has been a four year journey.... perhaps it actually has been a lifetime in the making.

The album is available on CD Baby, iTunes and several other online music outlets.