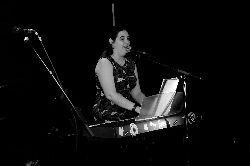 Casee Wilson is a singer-songwriter based in York, UK. She is a self taught vocalist and pianist who started writing and recording her own music about six years ago.

Casee Wilson has been played on BBC York's breakfast show, on BBC York Introducing and three times guested on The Fox's Den show on Vixen 101 FM. Casee has had a song selected for the soundtrack of short film Far Out, which went on to be shown at the Vancouver Film Festival. She regularly plays live around York and surrounding areas.

Casee Wilson has so far released three full albums (Beggars and Blues in 2010, Riptides in 2013 and Here At A Distance in 2015) and 1 EP (Tales From the Undertow in 2014) under her own record label Tiny Cat Records.